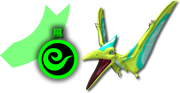 Air
is one of the five
Vivosaur
elements
and one of the most common, tied with
Water
for first. In
Fossil Fighters
and
Fossil Fighters: Champions
, Air-type Vivosaurs are strong against
Water-types
, and weak against
Earth-types
. In
Fossil Fighters: Frontier
, Air-type Vivosaurs are strong against Earth-types, and weak against
Fire
-types.
Fossil Rocks
of this type can be found at about any dig site with the exception of:
Knotwood Forest
,
Mt. Lavaflow
, and
Parchment Desert
in
FF
and
Mount Krakanak
, and
Dusty Dunes
in
FFC
. The two first Vivosaurs you obtain in
FF
are the Air-types
Spinax
and
Shanshan
, also the first two Vivosaurs found in the game. These are the only type of fossils found in the
trial dig site
and the most common at
Greenhorn Plains
. In
FFC
,
Aeros
is the Air-type starter that can be chosen as your first Vivosaur. If another starter is picked, the next Air-type Vivosaur you can obtain is
Pacro
at Treasure Lake.
Ptera
and
Stego
are Air-type
donation point
Vivosaurs in
FF
while Spinax, interestingly, is the Air-type donation point Vivosaur in
FFC
. The Air symbol is represented by streaks of a green gas spiraling around.
List of Air Vivosaurs
Attack Class
Defense Class
All-Around Class
Long-Range Class
Support Class
Transformation
Champions (no specified class)
Super Evolvers
Ad blocker interference detected!
Wikia is a free-to-use site that makes money from advertising. We have a modified experience for viewers using ad blockers

Wikia is not accessible if you've made further modifications. Remove the custom ad blocker rule(s) and the page will load as expected.