Aopteryx
Talk

2
571pages on
this wiki
Vivosaur Information
Edit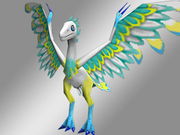 Although one of the weakest Vivosaurs, Aopteryx's ability to transform sets it apart. LP- and FP-stealing skills help too. Thought to be a bird ancestor, though not all agree.
Genus: Archaeopteryx
Length: 3 ft Diet: Carnivore
Era: Mesozoic Jurassic
Discovered: Germany
Dig Site:
Fossil Fighters Parchment Desert. Fossil Fighters: Champions Rainbow Canyon (Barebones Grotto)
Size:Small Stats and Skills (at rank 12)
LP: 200
Accuracy: 50 Evasion: 25 Skills:
Ancient Beak: ('50 power '30 FP)
Thieving Talons: 50 FP, 56 power. 80% chance of stealing up to 80 FP.
Life Drain: 100 FP, 71 power. Steals LP equal to amount of damage.
Ancient Power: 180 FP (60 FP in Champions). 100% chance to transform into any Neutral-element Vivosaur (except Dinomaton and Dynal, but it can transform into Squik)
Elder Wrath: 200 FP, 87 power. Team Skill: attack both AZ and SZ
Super Revival forms
Edit
Silver Head: White/green/purple
Silver Body: White with blood-red and black claws
Silver Arms: White/yellow
Silver Legs: Lime green/pink and yellow
Golden Head: Same color
Aopteryx has one of the lowest max LP of any Vivosaur.
It can transform into ANY neutral Vivosaur, except Dynal, Dinomaton and B-Brachio, and Neutral type Super Evolvers.
Aopteryx can transform into Squik, meaning that you do not need to unlock Squik to use it.
Vivosaurs

Fossil Fighters
Fossil Fighters
Unlockables
Fossil Fighters Champions
Unlockables
Super Evolvers