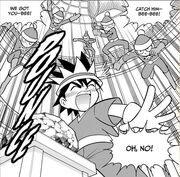 The BB Bandits are an antagonistic criminal syndicate featured within Fossil Fighters. They have lower-ranked BB Soldiers, a captain, Bullwort, and three primary members: Rex the dog, Snivels, the long-nosed man, and Vivian, the Trio's leader. And, as seen in the picture, the BB Soldiers commonly say "bee" in their sentences, with varying frequency.
Trivia
They are called the BB Bandits because their captain's name is Bartholomew Bullwort, which are his initials.
Ad blocker interference detected!
Wikia is a free-to-use site that makes money from advertising. We have a modified experience for viewers using ad blockers

Wikia is not accessible if you've made further modifications. Remove the custom ad blocker rule(s) and the page will load as expected.