Beth is a female charcter who makes her only appearance in Fossil Fighters. She is the girl who greets the player he first arrives in town. She organizes trips to various dig sites and never leaves her specific standing post. She also has a friend who stays by her side.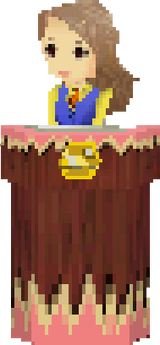 Quotes
Upon meeting the Player: Welcome to Vivosaur Island, where the dinosaurs of ages past lie asleep as fossils in the ground.
This is Vivosaur Harbor , Vivosaur Island's only port. New people arrive every day. Some are just fans of dinosaurs, but some are new Fossil Fighters in the making!
To become a Fossil Fighter, you'll need to visit the Fossil Center and talk to Dr. Diggins . To get to the Fossil Center... Just go right up this path, straight ahead.
When Dr. Diggins first appears: Excuse me, Dr. Diggins... May I assume you're here to take our newest recruit to the Fossil Center?
After Dr. Diggins wanders off again:  *sigh* That was head of the Fossil Center, Dr. Diggins. Oh, and he'll be responsible for issuing your Fighter's License. Good luck with that...
This article is a stub. Don't laze around and wait for someone else to work; pitch in and help the Fossil Fighters Wiki by expanding this page!
Reason: Not specified
Ad blocker interference detected!
Wikia is a free-to-use site that makes money from advertising. We have a modified experience for viewers using ad blockers

Wikia is not accessible if you've made further modifications. Remove the custom ad blocker rule(s) and the page will load as expected.