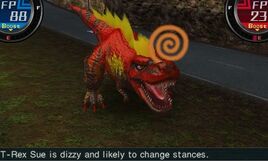 Dizziness
is a status ailment that was introduced in
Fossil Fighters: Frontier
. An afflicted
Vivosaur
may change into a random stance after using a skill. Dizziness goes away after two turns unless the status is reapplied or cured with an Ailment Cure Support Shot. It can be prevented with an Ailment Block shot.
Vivosaurs with Dizzy Skills
Ad blocker interference detected!
Wikia is a free-to-use site that makes money from advertising. We have a modified experience for viewers using ad blockers

Wikia is not accessible if you've made further modifications. Remove the custom ad blocker rule(s) and the page will load as expected.