Ad blocker interference detected!
Wikia is a free-to-use site that makes money from advertising. We have a modified experience for viewers using ad blockers

Wikia is not accessible if you've made further modifications. Remove the custom ad blocker rule(s) and the page will load as expected.
#008: Guan
(

グアンロン

)




Element:

Fire

Genus:

Group:

Era:

Length:

16 ft. - 4,9 m. (Medium)

Diet:

Discovered:

Class:

Transformation (Fossil Fighters)
Close-Range (Champions)
Guan

(Japanese:

グアン

ロン Guanlong

) is a

Fire Element Vivosaur

that was introduced in

Fossil Fighters

.
Vivosaur Information
#008

Guan

Description:

A rare Transformation-class vivosaur, Guan also has excellent Attack support. Learn Great Unmasking to transform into a T-Rex!
Guan gains strong support effects as it goes up in rank. It can also learn Great Unmasking to transform into a T-Rex!
Fossil Museum/Fossilary:
Said to be an ancestor of the tyrannosaurus.
Notable Owners: Saurhead, Rosie
Game locations
Stats and Skills (Max Rank)
Stats

340

59

14

50
20
| Skills | Damage | Cost | Effect |
| --- | --- | --- | --- |
| Long Fangs | 77 | 60 | |
| Guanlong Combo | 90 | 120 | |
| Guanlong Fury | 106 | 180 | |
| Great Unmasking | --- | 360 | Transform into T-Rex Success rate: 100% |
| Scorch Breath | 117 | 250 | Team Skill: Attack both AZ and SZ |

Own AZ


90%

0%

0%
0%
Super Revival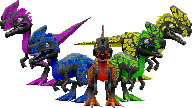 | | | | | |
| --- | --- | --- | --- | --- |
| Silver Head Fossil | Silver Body Fossil | Silver Arm Fossil | Silver Leg Fossil | Gold Fossil |
| | | | | |
| | | | | |
| | | | | |
| 360 | 360 | 360 | 360 | 440 |
|   64 |    59 | 69 |     59 |   64 |
|    14 |  24 |    14 | 19 | 19 |
| 55 |    50 |    50 |     50 | 55 |
|     20 |    20 |    20 | 25 | 25 |
Trivia
Gallery
Alectro (DS)

Guan

Shanshan (DS)
Vivosaurs

Fossil Fighters
Fossil Fighters
Unlockables
Fossil Fighters Champions
Unlockables
Super Evolvers
Fossil Fighters Frontier