Jungle Labyrinth


The Hero entering the site

Location:

Game:
Jungle Labyrinth
(
ジャングルラビリンス
Jungle Labyrinth
) is a
Dig Site
in
Fossil Fighters: Champions
. It is the second
Dig Site
to be unlocked in the storyline and, like the first, is rich with
Air
type
Vivosaurs
. It is unlocked by advancing past the first round of the
Caliosteo Cup
.
Background
The area is a natural maze formed by a wealth of plant life.The entrance is located past the southwest exit of Ribular Town.
Pauleen and Professor Nigel Scatterly, curator of the Caliosteo Museum, are both first met here. The Stone Pyramid can also be accessed at the back of this Dig Site. 
Vivosaurs
Main Site
(Note: The Main Dig Site of the Jungle Labyrinth will yield Silver Bodies when Wondrous Fossil Rocks are excavated.)
Gallery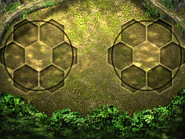 Ad blocker interference detected!
Wikia is a free-to-use site that makes money from advertising. We have a modified experience for viewers using ad blockers

Wikia is not accessible if you've made further modifications. Remove the custom ad blocker rule(s) and the page will load as expected.