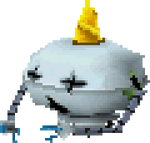 KL-33N (Japanese: 弟子ロボ Robot disciple) is a robot who can clean fossils. After it watches the hero clean any type of fossil (Dark, Normal, or Jewel Rock) a certain amount of times, it can rank up, cleaning fossils at a higher grade. In Fossil Fighters it can be found in the Fossil Center cleaning room after he is brought in by Dr. Diggins.
KL-33N is mostly used to rack up Donation Points. However, it is unable to clean Dark Fossils, Giant Fossils, Curious Fossils, Wonderous Fossils, or Miraculous Fossils.
Gallery
Trivia
KL-33N is a pun on the word clean (kleen). Its name is formatted in what is called "1337-speak", pronounced "leet-speak".
It appears to be levitating, and has a rotating drill on its head.
Ad blocker interference detected!
Wikia is a free-to-use site that makes money from advertising. We have a modified experience for viewers using ad blockers

Wikia is not accessible if you've made further modifications. Remove the custom ad blocker rule(s) and the page will load as expected.