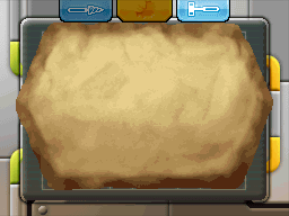 Miraculous Fossil Rock
is an type of super fossil rock. It allows certain
Vivosaurs
to be super revived into
Super Vivosaurs
. Miraculous Fossil Rocks are soft and easily destroyed.
There are multiple ways to obtain Miraculous Fossil Rocks:
You are gifted a Miraculous Fossil Rock by Minister Pomposa while progressing through the main story.
They can be found, rarely, at any dig site if you sonar is fully upgraded.
They can be purchased for 2,500 DP and, very rarely, at the Shop for 250,000 G.
If you manage to help Gregg Cooke and get 10 seconds exactly, you will receive one.
If you complete Robo-Don's puzzle without a single mistake, you receive one.
The 100th fossil cleaned via the Hare Club will wield one as a reward.
Every 20 dropping fossils given to John Guano

 will yield the reward of one.
Though it is possible to find a Miraculous Fossil Rock without any technique, this is highly improbable- it is best to wear a specific colored mask to a dig site where fossils of that color are not present, such as a Red Mask to Icegrip Plateau. Another technique, though less effective, is to wear a Head Mask to any dig site. You chances of finding a Miraculous fossil rock will improve slightly, as all Miraculous Fossil Rocks contain a Gold Head Fossil.
Ad blocker interference detected!
Wikia is a free-to-use site that makes money from advertising. We have a modified experience for viewers using ad blockers

Wikia is not accessible if you've made further modifications. Remove the custom ad blocker rule(s) and the page will load as expected.