Poison (毒 Poison) is a status affliction. Represented by the skull icon

, poison inflicts damage on the target Vivosaur at the end of its turn. Poison is most commonly associated with Water Vivosaurs and raptors, although other Vivosaurs are capable of learning Poison skills. Poison can be healed with Nullify and Rallying Cry.
There are three levels of Poison in the game, indicated by the color of the icon; standard Poison is the normal color, Super Poison is golden, and Venom (unique to U-Raptor) is purple. Poison skills are a great way for low Attack Vivosaurs to inflict damage and are useful for damaging high Defense Vivosaurs as the damage dealt is proportional to the target Vivosaur's max LP. Standard poison inflicts 15% of a Vivosaur's max LP, Super Poison inflicts 30% of its max LP and Venom inflicts 50% of its max LP.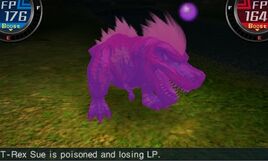 Infection
may be considered a form of Poison, as the damage is proportional to 100% of a Vivosaur's max LP. However, it takes multiple turns for it to work, and there is no icon on the Vivosaur as with standard Poison, Super Poison and Venom.
In Fossil Fighters: Frontier, there is only one level of Poison. It inflicts damage proportional to 15% of a Vivosaur's max LP at the end of the Vivosaur's turn and lasts for two turns unless it is reapplied or cured with an Ailment Cure Support Shot. It can be prevented with an Ailment Block shot.
Vivosaurs that can Inflict Standard Poison
Vivosaurs that can inflict Super Poison
Vivosaur that can inflict Venom
Vivosaurs that can inflict Poison in Fossil Fighters: Frontier