Spinax
Talk

3
585pages on
this wiki
#020: Spinax
(

アルティス

)




Genus:

Group:

Theropods

Era:

Mesozoic Cretaceous

Length:

29 feet (Large)

Diet:

Carnivore

Discovered:

England

Element:

Strong to:

Weak to:

Sprite:
Spinax (アルティス Altis) is an Air Element Vivosaur that was first introduced in Fossil Fighters. It returned in Fossil Fighters: Champions. It evolves into Giga Spinax.
Vivosaur Information
# 020

Spinax

Featuring an Auto-Counter ability, Spinax deals damage when attacked and is effective anywhere on the field!

Spinax has the Auto Counter ability. It can also raise the Defense of any ally once it learns Harden.
Fossil Museum/Fossilary:
Had backbones that looked like long spikes.
Dig Site:

Greenhorn Plains,Trial Dig Site

Exchanged for DP, Jungle Labyrinth (Rare)
Class:

All-Around

Close-Range
Notable Owners: Todd, Rosie , Hero (Fossil Fighters)
Stats and Skills (Max Rank)
Stats

480
72

36

48

20
| Skills | Damage | Cost | Effect |
| --- | --- | --- | --- |
| Spinax Fang | 84 | 50 | |
| Spinax Combo | 117 | 150 | |
| Cyclone | 127 | 220 | |
| Harden | --- | 50 | Raise Defense Success rate: 100% |
| Cyclonic Breath | 132 | 260 | Team Skill: Attack both AZ and SZ |

Own AZ
5%

5%

5%

0%
Super Revival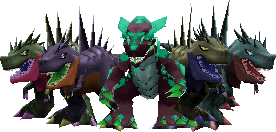 | | | | | |
| --- | --- | --- | --- | --- |
| Silver Head Fossil | Silver Body Fossil | Silver Arm Fossil | Silver Leg Fossil | Gold Fossil |
| | | | | |
| | | | | |
| | | | | |
| 500 | 500 | 500 | 500 | 560 |
| 77 | 72 | 82 | 72 | 89 |
| 36 | 46 | 36 | 41 | 42 |
| 53 | 48 | 48 | 48 | |
| 14 | 14 | 14 | | |
Trivia
Vivosaurs

Fossil Fighters
Fossil Fighters
Unlockables
Fossil Fighters Champions
Unlockables
Super Evolvers