#111/169: Squiro
(ウィンウィ)




Lenght:

3 feet (Small)

Era:

Unknown

Favorite Place:

Anywhere light

Element:

Strong to:

Weak to:

Sprite:
Squiro
(Japanese:
ウィンウィ
Winwi) is the
Air
-
Element
chicken
Vivosaur
that was introduced in
Fossil Fighters
. It returned in
Fossil Fighters: Champions
.
Vivosaur Information
#111/169

Squiro
Description:


Born from a mysterious egg fossil, Squiro features fantastic support effects, including a 50% Evasion boost!

Fossil Museum/Fossilary:
A mysterious Air-type vivosaur born from an egg. A bit of a blowhard, but tough in battle!
To obtain:

Mysterious present (Download), Raise all vivosaurs to rank 12

Side quest (Concentrate!)
Class:

Long-Range

Mid-Range
Stats and Skills (Max Rank)
Stats

200

30

10

48

20
| Skills | Damage | Cost | Effect |
| --- | --- | --- | --- |
| Zero Cloud | 46 | 60 | |
| Tornado Torpedo | 62 | 120 | Confuse Success rate: 90% |
| Mighty Gust | 78 | 180 | |
| Karmic Aura | --- | 100 | Attempt counter Success rate: 50% |
| Aero Annihilation | 85 | 250 | Team Skill: Attack both AZ and SZ |

Own AZ


30%


20%


10%

50%
Summary
Squiro is a rare chicken-like Vivosaur only found in the Nintendo Channel. You must download it (it is the Air type) and then clean it succesfully. It was replaced with it's earth-type counterpart, Squirth on January 1st, 2011. It automatically starts at 300 battle points, while the other 300 must be obtained via battling. However, Squiro and the others can be obtained legally in the game, when all of the 100 Vivosaurs reach rank 12. You get it in Champions by getting 9.9 seconds in the sidequest Egg-xact Timing.
Trivia
Squiro's wings, tail, and crown resemble green versions of Air-type attacks, because of its Air type affiliation.
Unlike the abilities of the other birds, Squiro's Team Skill is a swirling wind instead of a sweeping move.
Gallery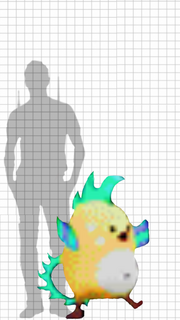 Vivosaurs

Fossil Fighters
Fossil Fighters
Unlockables
Fossil Fighters: Champions
Unlockables
Super Evolvers
Fossil Fighters: Frontier
Ad blocker interference detected!
Wikia is a free-to-use site that makes money from advertising. We have a modified experience for viewers using ad blockers

Wikia is not accessible if you've made further modifications. Remove the custom ad blocker rule(s) and the page will load as expected.