Status Effects
are additional properties assigned to some
skills
. There are Positive and Negative Effects, most of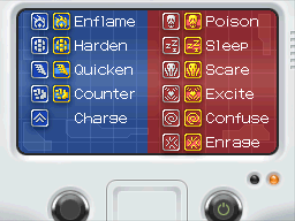 which can be removed with healing skills such as
Rallying Cry
. All status effects except
Charge
and
Infection
were introduced in
Fossil Fighters
.
Negative Effects
Negative Effects are used against the opponent to hinder their strategy or inflict damage to their Vivosaurs.
Positive Effects
Positive Effects are used on your own Vivosaurs to gain the advantage in battle.

As for Fossil Fighters: Champions some Vivosaurs enter battle with status effects applied because of their abilities. These Vivosaurs are Nigo, Tanstro, Terata, Radox, Dikelo, Parapu, Desmo, Gaudry, Anomalo, and Tonzilla.