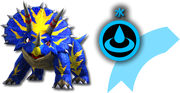 Water
is one of the five basic
Elements
in
Fossil Fighters, Fossil Fighters: Champions,
and
Fossil Fighters: Frontier
. It is considered to be the most common Element in the series, tied with
Air
. In
Fossil Fighters
and
Fossil Fighters: Champions
, it has a strong elemental advantage against
Fire
, and a strong elemental disadvantage against Air. In Fossil Fighters: Frontier, it still has an advantage against Fire, but it's elemental disadvantage is changed to be against
Earth
. The main
Dig Sites
for Water types are
Bottomsup Bay
and
Coldfeet Glacier
. You can find a few water types in
Rivet Ravine
and
BB Base
. In
Champions
, Water element rocks can be found in vast quantities at
Rainbow Canyon
(Blue) and
Icegrip Plateau
. These are also the only element you find in the water at
Treasure Lake
, except for the rare instance when Dimetro can be found there if you selected that as your starter Vivosaur. Water's symbol is represented by three blue water droplets. The rings around Water element Dino Medals are blue. Most Water element-based
Vivosaurs
have poison skills, probably because poison "erodes" the opposing Vivosaur's health.
List of Water Vivosaurs
Fossil Fighters
| | | | | | | | | | |
| --- | --- | --- | --- | --- | --- | --- | --- | --- | --- |
| Alio | Alectro | Cryo | Delta | Dilopho | Spino | Angato | Sucho | Onyx | Jiango |
| | | | | | | | | | |
| Ankylo | Nasaur | Proto | Tricera | Krona | Futabi | Elasmo | Plesio | Shoni | Brontoth |
| | | | | | | | | | |
| Paki | Mammoth | Chelon | Duna | Squilk | - | - | - | - | - |
| | | | | | - | - | - | - | - |
Fossil Fighters: Champions
| | | | | | | | | | |
| --- | --- | --- | --- | --- | --- | --- | --- | --- | --- |
| Alio | Alectro | Cryo | Delta | Dilopho | Spino | Despino | Angato | Sucho | Onyx |
| | | | | | | | | | |
| Jiango | Ankylo | Galgaron | Nasaur | Proto | Tricera | Heracles | Krona | Futabi | Momo |
| | | | | | | | | | |
| Elasmo | Kaishin | Plesio | Marple | Shoni | Brontoth | Paki | Mammoth | Chelon | Mapo |
| | | | | | | | | | |
| Mapo King | Archaeo | Toba | Equinas | Seidon | Berta | Thalasso | Gomp | Tanstro | Parapu |
| | | | | | | | | | |
| B-Plesio | B-Tricera | Squilk | Duna | - | - | - | - | - | - |
| | | | | - | - | - | - | - | - |
| | | | | | | | | | |
| --- | --- | --- | --- | --- | --- | --- | --- | --- | --- |
| Alio | Alectro | Cryo | Delta | Dilopho | Spino | Despino | Angato | Sucho | Onyx |
| | | | | | | | | | |
| Proto | Mapo | Mapo King | Archaeo | - | - | - | - | - | - |
| | | | | - | - | - | - | - | - |
| | | | | | | | | | |
| --- | --- | --- | --- | --- | --- | --- | --- | --- | --- |
| Jiango | Ankylo | Galgaron | Nasaur | Tricera | Heracles | Futabi | Momo | Elasmo | Kaishin |
| | | | | | | | | | |
| Plesio | Marple | Shoni | Brontoth | Paki | Mammoth | Chelon | Berta | Gomp | B-Plesio |
| | | | | | | | | | |
| B-Tricera | Squilk | Duna | - | - | - | - | - | - | - |
| | | | - | - | - | - | - | - | - |