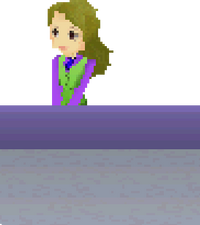 Wendy
is a female character that is featured within
Fossil Fighters
. She works the front desk of the
Fossil Center
, and she assists the
Hero
in finding 
Dr. Diggins
in the prologue. Wendy is very important in the prologue. She reveals herself to be the Level 1 Master, and fights the Hero before he can become a Level 2 Fighter. After the fight, the Hero won't need her assistance again for an extensive period of time. She is a major character in the online comics, following
Dr. Diggins
almost everywhere he goes.
Quotes
Welcome to the Fossil Center. Hi, I'm Wendy! I take it you're here to register to become a Fossil Fighter? Dr. Diggins returned just a while ago, but has unfortunately wandered off somewhere again. It could be a while before we find him. You might want to go over to the hotel and check in while you wait. The hotel... ...is just to the right of the Fossil Center. See you in a while.
Have you checked in at the hotel yet? On your map, you'll find it just to the right of the Fossil Center.
Ad blocker interference detected!
Wikia is a free-to-use site that makes money from advertising. We have a modified experience for viewers using ad blockers

Wikia is not accessible if you've made further modifications. Remove the custom ad blocker rule(s) and the page will load as expected.